I don't like "conquering" my fears. I know it shows bravery or whatever but I'm just too much of a pussy.
With Halloween coming up, maybe it will make me feel better if I just share some of my fears with you.
Here are some things that scare the bejeezus out of me. I'm not giving you all of them, because frankly, I'm freaked out just thinking about most of this stuff. Heck, you're lucky I'm telling this much.
The feeling you get the moment before a car accident.
I hate that I've been in an accident that left me in the hospital with screws in my shoulder. I take comfort in the fact that it wasn't my fault and that my insurance got me a new car (since my old one was totaled). But I still fear that point where your mind realizes that there is nothing you can do to prevent what's about to happen right before an accident. Basically, the "Gah! You're screwed!" feeling.
Richard Simmons
If I see that freaky creature dancing one more time or holding hands with a one of his worshipers while tearing up, I am going to shit myself.
He's creepy, weird and I would run the other way if I saw him coming. Plus, I heard he bitch slapped some dude. I'm getting goosebumps just thinking of it….
Doctors who want you to make an appointment to "discuss your test results"
This leads to the next one….
Cancer
I often feel like a walking time bomb. My mom died of breast cancer. Now my dad is dying of brain cancer. I feel its just a matter of time before I discover a tumor. Needless to say, I'm still drinking diet soda.
Nancy Grace
No reason really, she just gives me goosebumps.
[Some] Foods
I have been working on fear foods for what feels like forever. I mean with some of them, literally for years.
And yet, they still stay "scary". I'm now able to rationalize that no food has the magical power to make turn me into the grimace or make me a bad person or whatever it is that my ED is trying to convince me of. Yet I still have some anxiety whenever I consume certain foods and that I won't be able to stop eating. I keep trying to challenge these fears and eat the foods that scare me to get over the fear, but no matter how many times I try and succeed, I still have a ton of anxiety. But I keep exposing. Exposure, exposure, exposure. Its the only way to quell it.
Men who silence their girlfriends with a quick look
Needs no explanation.
Being "An Adult"
Losing my mom so young, I had to grow up fast. Now that I'm taking care of my dad, I don't feel prepared to handle everything once he passes. Its beyond stuff like bills and mortgage. Its stuff that I know people didn't have to deal with until they were in their 60's. But, I need to bite the bullet and be a grown up. I'm still allowed to eat cheerios though. I'll never outgrow that.
Turning around to discover someone following me
Except on Twitter
When Toast Pops Out of The Toaster
Mainly, I'm just scared of the carbs in the toast
Bottom Line: Everyone has fears, as odd as they may be. Fear is a good thing; It keeps us on our toes. If there was nothing to scare the living daylights out of people, there would be no order to this world. We'd all be littering and not giving a shit about the planet and stuff. I guess its not so bad that I have things to overcome. Whatever scares you or makes you hyperventilate, it's all for a purpose. Fears sort of shape the person you are, not just the person who screams all the way through eating a lot of carbs.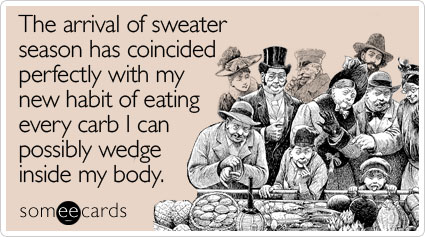 You know what I'm talking about. 😉
What scares you (rational or irrational)? Did you conquer it? Do you want to?