Even though everyone complains they hate ads, you gotta hand it to them: they can be very persuasive. I'm fairly certain the Snuggies became popular thanks in large part to those hideous infomercials of the whole family looking like wizards cheering at an outdoor baseball game.
But ads can sometimes be misleading.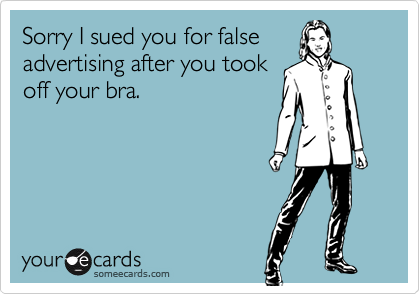 Infact, as I was driving home from work listening to NPR today, I heard about the lawsuit against Reebok. Have you seen their ads for their "Easy Tone" shoes?
Ads for Reebok's shoes bragged that lab tests proved the sole's "special design" would help lead to an ass you could bounce quarters off of. Or some shit like that.
But in reality, the lab tests didn't show that the shoes would improve muscle tone. So Reebok was forced to refund 25 million bucks. Enough money to get you multiple liposuctions, personal trainers, and butt implants.
Anyhow, I thought I'd come up with other examples of "false advertising":
1) Tampon commercials: I don't want to twirl or spin in circles on my period. I mainly just want to curl up in a ball & cry.
2) "English Breakfast" Tea: tastes nothing like crumpets or beans on toast
3) The Movie, "The Breakfast Club": Very little of movie dealt w clubbing bowls of cereal….or oatmeal for all you healthy bloggers out there.
4) Heirloom Tomatoes: A while back I bought some heirloom tomatoes to pass along to my grand kids someday. They didn't even last the month.
5) "Chocolate Labs": Nope. I saw one at the park the other day and it didn't taste ANYTHING like chocolate.
6)"Trident Layers": The grocery store wouldn't let me pay in "Trident Layers" like the commercial promised.
7) Facebook Profile Pictures: actually, ANY profile/avatars (yea, twitter too)
8 ) GPS: Well, at least every time I use it I get lost. Plus, I think my GPS is homophobic cause it usually likes to yell at me to "stay straight!".
9) Me: I'm very disappointing in real life. I'm so lonely and boring, that when I banged my elbow on the kitchen counter I told everyone it was a heroic "sex injury".
Truth is, there's no one to tell.
Give me some of your examples of false advertising. Any gadgets you've used that totally did NOT do what the ads promised?
You know what else is false advertising?
Finding proof in pudding! Well, at least this pudding.
But at least all you can make it in an instant using a microwave!
(makes 1 serving but I would double the recipe to be honest, this was more like a "mini snack" serving)
1 cup milk of choice (I used the cow kind, I know it works with soy milk but not sure about almond milk…which if you ask me is also false advertising cause it tastes nothing like almonds.
1 tbs sweetener of choice (or as to taste, more if you like it extra sweet, less if you don't)
1 tbs lemon juice
1/2 tsp vanilla or lemon extract
1 tbs cornstarch
Put the cornstarch and sweetener into a microwave safe dish. Slowly add the milk, lemon juice, and extracts. Stir well with with a whisk or a fork.
Microwave on high power for about 45 seconds. Stir really well and return to the microwave for 15 seconds, stir, and repeat until mixture comes to a boil. Watch it carefully to make sure it does not boil over the sides. Once it reaches a boil, give it about 20 more seconds but stop the microwave if it starts to boil over. Stir well, and pour into a serving dish. You can serve it hot or chill it in the fridge.
No proof.
But at least its pudding.