Its been a while since I've posted replies to my online dating messages.
And I bet you guys are wondering if I ever actually went on dates.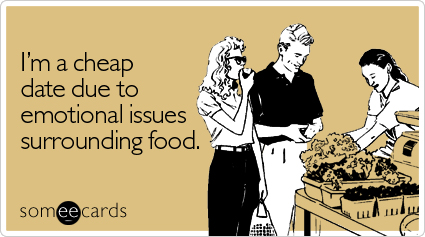 Well, I'm a little embarrassed to admit that I've had more first dates than 2nd and 3rd dates (haha, 3rd date. That's hilarious). After a "just drinks" date, there is the inevitable next step that all men must stomach (pun intended):
The actual lunch/dinner date.
Its deceptively harmless: food, easy access to booze, a menu (with crayons and a maze on it if you're really lucky!). Good times. But no matter how good the food is or how free the refills are your date might have a way of spoiling the date with these less than appetizing habits.
Let's examine:
Food Pusher
Ah, the "Food Pusher"….They're so stoked about whatever they're eating, its like their mission to have love it as much as they do, even if you really loathe it.
Look, I know how a menu works. If I wanted the snails, I would have ordered it. My real issue with "The Pusher" is that he doesn't take "no" easily and that could foreshadow a miserable relationship in the future. Well, either that or maybe you're so skinny, he really just wants to make sure you don't fall through the sewer or something…And if thats the case, um, get help.
The Smug Moron
They want to appear to be "sophisticated" and "suave", but they just can't conceal the fact that their brains are hallow and you can't fake intelligence. Example: they order a Zinfandel and the waiter asks "red or white?" and they reply with a disgusted look on their face:
"pink."
And then you laugh.
And leave.
The Thrifty Splitter
"Hey, you mind if we split the tomato soup?"
It's a soup, not a bucket of fries or chicken wings. "The Thrifty Splitter" doesn't just want to share normal things like appetizers or desserts. They'll want to split salads, ice tea, maybe even the 3oz of wine you got served. I think such people have two motives: 1) Save money and 2) attempt at creating some "emotional closeness" through half your burger or half you spaghetti.
The only glimmer of hope you have is that he doesn't make you split the bill. Because if I'm only half full because you ate half of everything, there's no way I'm reaching for my wallet.
The Nomad
For "The Nomad", there is always a reason why the table you were seated at isn't the table you "should" be at. Too close to the door, too close to the bathroom, too far from the bathroom, upstairs, downstairs, outside, inside, too loud, too dark, too cold… GAH! The Nomad is never happy with the first option. I'm not really sure if "The Nomad" is capable of being satisfied. I think they just like seeing a pack of busboys look at me like I just bulldozered their house as they reset the table that we were at for less than 30 seconds.
The Just Plain Bore
I've had some bad dates, but most were just boring. The bottom line is that you dont REALLY know this person yet. Plus, its chock full of awkward/boring moments. You're tied to a chair for a few hours, you fart/queef, you catch him looking your cleveage, he gets a stiffy etc…but I get it: it's hard to just focus on the food when you sit down for that long.
As much as I can appreciate going out to eat, I think its best reserved to do after you know someone for a while.
Actually, treat yourself to a dinner date. I know, it sounds lonely and maybe borderline crazy, but eating out at fancy place by myself is on my bucket list.
At least I won't have to split my after dinner mint. 😉
Any dinner date habits you would like to add to the list? Are you guilty of any of them?
I hate that I have no brilliant segway into today's recipe. I'm just stoked that these turned out as delicious as I had hoped.
And yes, I caved.
I opened my first pumpkin can of the season. Go ahead. Make fun.
(makes six muffins)
3/4 cup flour of choice
½ cup oats
1/4 cup flaxseed meal
1 tsp baking powder
1 tsp salt
1 tbs dried sage
1 tbs dried thyme
2 cup pumpkin puree (fresh or canned)
2 tbs olive oil
1 tbsp apple cider vinegar
1 tbs maple syrup
This is a tricky recipe. Mix all the dry ingredients till well combined! Don't hurt yourself now. Add the wet ingredients and stir well. Do not over mix the dough.
Scoop it into the muffin tray and bake in a preheated oven at 350 F degree. bake for about 20-25 minutes or till the toothpick inserted comes out clean.