Facebook ruined sharing good news.
By the time you see your friends there is no point in sharing anymore.
They all know.
I guess the same thing can be said for Twitter and I've heard or been part of this conversation far too many times:
Person 1: "Guess what? I just [insert good news]!"
Person 2: "I know, I saw your message on FB/Twitter."
Person 1: (loses all enthusiasm for the conversation)
And it ruined birthdays along with good news.
And this is why Facebook ruined birthdays:
It Reminds Us That We Are Unique, Just Like Everybody Else: Facebook will likely say something like this to you:
"Hey, thanks for logging in!

This week, your best friend's ex-boyfriend, your great aunt once removed, your coworker's daughter's tennis instructor, and your neighbor's pet rock all have birthdays! Would you like to write on their wall!"
If only it were that simple. But go to their wall and boom: you're not so unique and and you're not so thoughtful.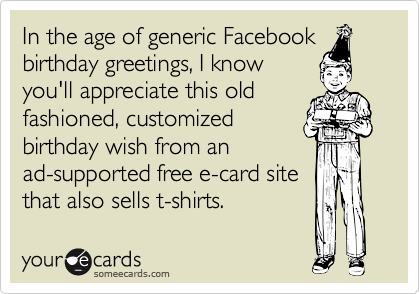 Lose Lose: I don't want to tell people happy birthday anymore because I don't want to seem like a loser friend, but if I don't say anything at all then I look like a bad friend. It's a no-win situation!
Like China and the United States….or a diet cook with a chocolate cake recipe in the back.
It Ruined Birthday Parties Too: When one gets a party invite on facebook, no one wants to commit to going to a party if no one else is going to show up. Everyone waits to see how many people RSVP. It gets close to the party, and since no one wanted to be the first, everyone thinks that no one is going. Hence they prove themselves right by not showing up and this reinforces my theory that everyone has commitment issues.
You Don't Want To Care, But You Do: I secretly wanted my Facebook wall to look like Prince William's Royal Wedding or a U2 concert. Instead, it often resembled tumbleweeds rolling in the abandoned offices of Myspace. To my defense, I didn't cry.
How has your birthday changed over the years? Have you gotten an actual cool, unconventional facebook birthday wish? Do tell.
Ok, so now that we've covered how our birthday's aren't so special anymore, lets celebrate with monkey bread. And the recipe couldn't be any easier:
2 cans of refrigerated buttermilk biscuits
1/4 cup butter, melted (or butter substitute of choice, I like a Belgian brand I get at Trader Joe's called "Balalde"
1/4 cup sugar (or sweetener of choice, I used stevia)
1/4 brown sugar
2 tablespoons cinnamon
1/4 teaspoon cloves
1/4 tsp cardamom
2 tbs cocoa powder
2 teaspoon rum (or imitation rum)
Icing
1/2 cup powdered sugar
approx 3 tbs orange juice (just whisk the two together)
Preheat oven to 350 degrees and prepare pan by applying a thin layer of non-stick spray
In a bowl, mix cinnamon, sugar, brown sugar, cocoa, and spices until well mixed
In a a microwaveable bowl, melt butter.
On a plate, take out the dough from the canisters then create an assembly line with dough, then butter, then cinnamon mix, then bundt pan
Cut the biscuits it quarters and roll into little balls. Roll in butter until covered, then roll into cinnamon mix (generously cover), and then place in bundt pan. No special arrangement needed. They don't need to be packed because they will expand when baked.
With remaining cinnamon & sugar and butter, mix together and add rum until well mixed. Evenly pour mixture over rolls in bundt pan.
Bake for 40 minutes then remove from oven. Let cool 12-15 minutes then carefully flip bundt pan onto serving plate and remove. Serve with icing.