Before I begin, just wanted to mention I was overwhelmed by all of the comments on my last post. Seriously, its that kind of support that helps me keep my chin up.
But back to business…
It's a cliché to write about – especially on "the holiday" – the things you're thankful for on Thanksgiving. Plus, I'm sure most of you aren't doing much blog surfing when you should be cooking/eating/playing football or some thing "American".
So today I'm going to instead write about the things I'm NOT thankful for:
Paying for Take-out: Even though I'm chef, I don't feel like cooking (shocker!). But nobody does their own take-out anymore! Nope, you have to call one of the myriad of companies who will charge you a hefty premium just to bring you substandard restaurant "food." Good thing I know how to use the microwave.
Ice cream with freezer burn:
Over-use of words like "Fail" or "Epic": If the deli guys forgot the pickle on your sandwich, tweeting "epic #fail" isn't the best way to handle it? Last I checked, pickles can't not materialize from a Twitter stream. Try going up to the counter and asking for one. Sure it's an extra step out of your already busy day, but its more useful than dumping your pickle disaster on a congested tweet feed. And what the fuck is "Epic" supposed to mean anyway?! "Would you like some EPIC with that FAIL?!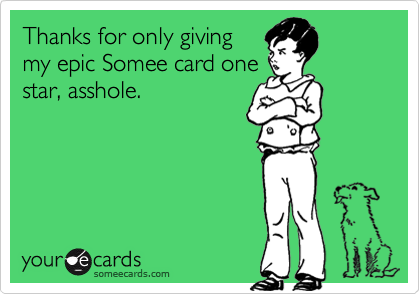 The Facebook and Twitter "Things I'm Thankful For…" fad: Ugh! If a see another #thankful4 or list of facebook….Besides, everyone lists the same things more or less:
"my family, my health, my friends"
Ya know….maybe they should be more honest and write
"my health insurance, my fertility, my huge cock, my hedge fund, etc…"
Cancer: enough said.
Luxury: Don't get me wrong, I like good food, vacations and having a comfortable place to live as much as the next person. Especially if you EARN it. But luxury, as a way for brands to differentiate themselves, is a tired idea. In fact, anything that uses exclusivity or costliness as it's main point of distinction feels icky and, well, cheap.
Andy Rooney's Passing: I'm not thankful that Andy Rooney passed away. This guy was like my wise godfather I never had.
He new how to be grouchy without being hateful – which is the tone I've tried to achieve. And lets face it, I pretty much suck at it.
But now that I think about it, I really should be thankful to have reader who get my sense of humor. Fuck, I should be thankful for having readers at all!
Happy Thanksgiving my American friends. And to people abroad, I apologize for America for "Americanizing" far too many things.
What things are you NOT thankful for? Whats your least favorite thing American "Americanized"? I think the top of my list would be "Taco Bell" and "Panda Express" and trying to pass it off as Mexican and Chinese.
And since its Thanksgiving, I thought I'd share a recipe that's totally NOT traditional. Its like a the the birth child of Jewish/Italian "pilgrims". OK, not really…it just has challah and balsamic vinegar.
This recipe is scaled down for two or three people (or one person even!). If you'r having a big dinner party, double it!
6 slices of toasted or stale challah bread, cubed
1/2 cup pureed winter squash or canned pumpkin
1 medium red onion
1/4 cup and 2tbsp balsamic vinegar
2 tbsp apple cider vinegar
1 tbsp maple syrup
1 cup broth of choice
1/2 tsp dried thyme
3 eggs (sub almond milk or egg substitute if you like)
Preheat oven to 350 F.
in a large bowl, combine: broth (sub for different broth if you're vege), egg , 2 tbsp balsamic vinegar, and mashed squash
mix until sort of smooth, but don't be too rough with it!
add bread cubes, and gently mix until bread is evenly coated and soaked in mixture and gently fold in half of your sliced onions and thyme.
Bake in muffin tins for individual servings or a loaf pan/casserole dish. The size of the pan you use will determine the cooking time. For muffins it could take 15-20 min and 30 for whole loaf…but keep an eye on them! Don't yell at me if you burned them, everyone's oven is different too so just be alert after 20 min have passed.
In the meantime, with the rest of you onions, coat a pan with a little oil and add the onion. Let them get a little soft and add remaining balsamic vinegar, cider vinegar, and maple syrup and sautee to reduce it a bit by bringing the heat down to low. Let it reduce for about 10-15 min or until syrupy and remove from heat.
Once the stuffing is done, pour the balsamic reduction on top and garnish with more thyme.