I've always wanted to write a douchey post teaching people how to get more Twitter and blog followers.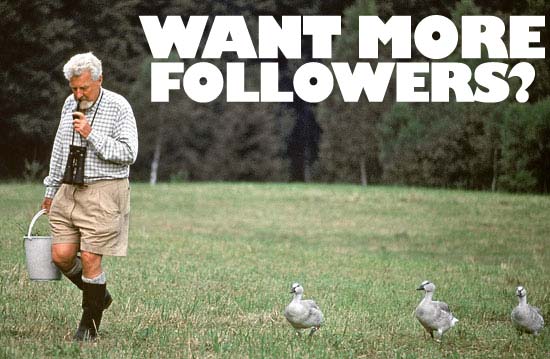 In actuality, I'm the last person on the planet that cares about how many followers or readers I have. If I did, I'd follow more people and read more blogs. And with my social media ADD, I only allow myself to follow 40 people at a time on Twitter, and about 15 on Instagram. Hey, at least I'm not as picky as Kanye West who apparently only follows Kim Kardashian.
Although, that's a wise choice on Kanye's part.
Anyhow, I thought I'd let you in on some ways to get you more followers and readers:
Lie and Embellish
Most people's actual lives are boring as shit.
"OMG!!! I have to go to work today, you guys!!!! #MondaySuck

or

"Good night tweeps. Off to cuddle with the hubby!!!"
Im sure by "cuddle" she meant "fuck"…but whatever. But let's face it, bumble bee leads a more exciting life than me. Hence I embellish things. For example, a few months ago, I tweeted:
"A pony bit me "
There was no pony. It was Mike Tyson.
Make a Good Impression
Remember, people decide if they like you in 4.5 seconds. Its even LESS when its people you meet virtually! Pick the best picture of yourself, make your blog visually appealing, and make your "about section" or bio absolutely riveting!
Ok, I just lied about the "4.5″ seconds. I just wanted you to think I know shit this.
Engage Selectively
You have every right to call me a bitch for not replying to a tweet or to every single comment. You have the right to call me a bitch for other reasons, but I'm not going to go there in this post.
In fact, I don't even comment on most blog posts anymore. Unless I have something enlightening and earth shattering to bring to the table, I leave it be.
Stop Caring:
People can sense desperation and most people are turned off by it. For example, worshipy people that comment daily on popular blogs hoping that one day the blogger will click on their blog and read their brilliance.
They won't. They have better things to do. Like pimp themselves out on twitter. Or eat oatmeal.
Anyhow, same thing happens on Twitter and for blogs. People can sense that you're hungry for followers.
Don't worry so much. Most of the people you follow on twitter aren't REALLY your friends.
You get the most followers when you stop caring.
Do you have any tips to getting more reader/followers? Any advice on who I should unfollow? For some reason, no one gives me an "unfollow list"!
My friend Deb is famous for her microwave protein muffin. So I thought I'd use her basic recipe for inspiration for these fig cakes. You'll need:
1 Egg and 1 whites (Deb's recipe calls for 2 whites or 1/2 cup of egg substitute)
1/4 Greek yogurt (Deb usually uses pumpkin or apple sauce
2 T coconut flour (althouhg all purpose flour works well too)
1/2 tsp baking powder
stevia or other granular sweetener to taste
juice of 1/2 lemon
1 or two slices figs on top
Spray a soup bowl with a very light layer of oil to prevent sticking.
Mix ingredients well with fork, whisk or spatula. Spoon into the bowl and top with sliced figs.
Microwave for 2:30-4+ min on High (depends on your microwave)