When I was a little girl (I'm still little, but when I was little-er), I wanted to be about 100 different things when I grew up.
I thought I'd share those things with you and why they are a horrible fit for me now that I'm older and slightly wiser:
Flight Attendant:
Why I wanted it: Traveling around the world for free? Sign me up! It's like being on vacation all year round and getting paid for it! I'd get to look pretty on a plane (which is impossible if you're a passenger) and meet all kinds of exotic people. Plus, I'd get to cut through customs and get on the plane before all the other crying babies and stuck up first class assholes.
Why I don't want it anymore:
As a flight attendant, I'd have to smile. A lot. I don't like smiling when I don't mean it. I'd have to put up with all sorts of assholes and little obnoxious kids. Plus, I'd never stay put so it would be hard to keep friendships and social outings. Never mind the fact that having a boyfriend would be impossible (oh, wait, it already is now).
Doctor
Why I wanted it: I had a dumb reason for wanting to be a doctor. Bascially, when I was seven, the TV show, ER, was very popular. I wanted to be cool like the people on that show. I wanted George Clooney to be my co-worker. I wanted him to sweep me off my scrubs and get hot and heavy in the MRI room, or wherever medical professionals get kink. Oh yes, and who can forget about the $$$$
Why I don't want it anymore: The truth is, becoming a doctor involves school. A lot of school. You also have to be smart to pass all those classes in school…and as you can see by my poor spelling and grahmmer skillz, I'm no Einstein. Plus, most doctors I meet look nothing like Mr. Clooney and as I've said before, its weird they know more about my labia than I do.
Food/Movie/TV Critic
Why I wanted it: Watch movies/TV all day before they're released to the public? Eat in fancy restaurants without having my wallet raped? Sounds like a dream! Plus, everyone will take me seriously and say,
"Well….Eden said 'Gigli ' was excellent so I'm DYING to see it!".
Why I don't want it anymore: All critics need to churn out bad reviews. And bad review means backlash. Directors, chefs, actors, and everyday civilians will blacklist me if I give a bad review. I guess I secretly want to be a blog critic but that will cast out my blog into oblivion.
Or I'll be pelted with uncooked oatmeal.
Ice Cream Taster
Why I wanted it: this needs no explanation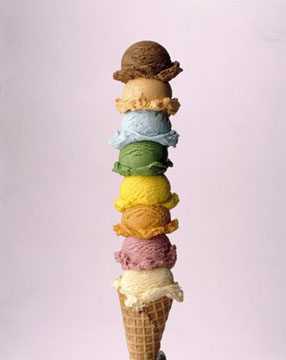 Why I don't want it anymore: I still totally want this job! But call me shallow, but I just don't want to morph into a hippo. I'm not blessed with a super fast metabolism, and if I were, I'd totally be doing this job yesterday
So what did you dream of doing but lost the lust for it as you got older?
And ……I actually have a recipe today!
I know, tell all the popular blogs! I'm back to being cool again!
These a swedish pancakes. Inspired by my love of pancakes and Deb.
(Serves 1 Eden, which is about 4 medium pancakes)
1 egg plus 2 egg whites
1/3 cup all purpose flour or coconut flour (I used a mixture of both)
1/2 cup milk of choice
1 tbs cherry jam (any flavor jam you like will do)
Extra jam for toppingBlend all ingredients together with a blender or with a whisk. I like to mix the ingredients in a large measuring cup for easier pouring. Heat a nonstick skillet until hot. Grease the pan wit butter or spray and immediately pour a thin even layer of batter to coat the bottom of the pan. When bubbles start to appear and edges lift easily, flip the pancake with a spatula and cook until brown. Fold pancake into fourths and repeat with remaining batter. Serve sprinkled with powdered sugar and your favorite jam or preserves.