Back by popular demand, I'll be answering online dating messages from the creepers of OK cupid.
Just like the ones before, the messages I recieved are real. And I'm still single, shockingly.
I'm also giving away something at the end…so just scroll down if this part bores you. But it usually doesn't bore. You might even pee in disbelief of these weirdos.
Let's just get right to it:
A blow job and dinner sounds really good to me, whats wrong with that if you get the same in return.

-SleezeBall
Dear SleezeBall (not his real screen name, but I found it appropriate),
Whats wrong with that is that if I have dinner, it means I for SURE cannot swallow for this whole blow job business. Because this will mean I'll gain weight and that would be the end of me. I'm so eating disordered that you DO NOT want me involved in a date where eating and blowing is involved. Let that be your warning.
-Eden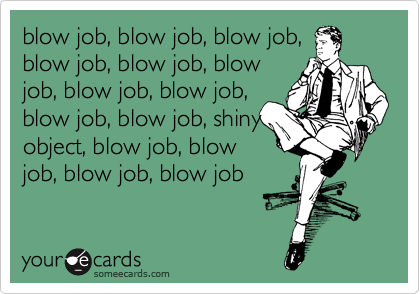 I'm new to this whole online dating thing but I'm always down to meet new people, and I love me some good food! I'm a bit of a chef myself but I'm always looking to improve my skills. Hit me up if you want to talk about cooking or go on an adventure some time.

-Adventure Guy
Dear Adventure Guy,
Every guy that can hit the "popcorn" button on the microwave thinks he's a chef. Fillet me a whole salmon and then we'll talk. Or go on an "adventure" or something. Dude, its 2011. Who goes on "adventures" besides Indiana Jones or Carmen San Diego?
-Eden
you look like 3 different girls. what's up with that

-ConfusedDater
Dear Confused Dater,
Is cause I'm a hybrid three different people: Liza Minnelli, Harriet Tubman, and Joseph Stalin. That's whats up.
-Eden
aww you have a beautiful smile, how are you doing today??

-RoboCop
Dear RoboCop (seriously, what kind of username is that?!),
"Aww"???? I'm not a puppy you dumb dick. I'm just a bitch.
-Eden
And now to the giveaway part of the program:
As most of you know, I'm not a fan of giveaways. But since my birthday is coming up and I was offered the oppertunity from the lovely people at Nu Naturals (very nice, non-corprate company), I thought I'd give you guys a little something.
I will select FOUR people and each will be able to win:
One box of NuStevia Packets, AND one bottle of NuNaturals Vanilla Stevia Liquid. And I'm sorry, but this is for U.S. residents ONLY (don't fret, I'll have a giveaway of my own on my actual birthday for residents of the world! Promise!).
Since I hate that bloggers will make their readers tweet, retweet, jump through hoops, link on their blog, look at the companies website and say something lame about the company, and become little promo whores, the criteria for this will be very simple.
When and where was the last time you farted.
And add anything else you want. Tell me about your weekend, actually don't. I don't care. Just, say whatever.
But be honest. I always am 😉