Fun fact: parents aren't perfect.
We grow up to believe they do.
However, there comes a point in life where we realize they are far from perfect and that maybe we know better than them.
My cousin from Australia came this week to visit. I haven't seen him in a while and we got to catch up this week on the past and about my parents. All this reminising made me realize my parents did some stuff I totally hated.
I'm not gonna air out all my parent's dirty laundry but for this flashback friday, but I thought I'd share some ways my parents pissed me off or messed up:
1) Told Me To "Stop Crying!"
Seriously, men and women need to get over it and stop seeing crying as a sign of weakness.
My mom never had a problem with me crying, but my dad did. Not so much when I was younger, but as a young adult, my dad would get annoyed when I'd cry around him.
I guess its a macho thing. When we brought my dad home for passover a few weeks a ago, he started crying and tried to hold back the tears. Somehow, I actually didn't cry but it felt good to see my dad finally let the flood-gates open.
2) Style
I'm no Joan Rivers or a "fashionable" by any sense of the word, but I know lack of style when I see it. And my dad lacked style.
Sorry, dad.
I think my mom had some questionable outfits, but her style wasn't terrible. I also gotta be lenient on her cause I only remember her from the 80's-90's when style in general was hilarious.
3) Snoring
When my mom was alive, we had a dog that snored too. So all together: my dad, my mom, and my dog all snored at night. It was a whole snore symphony that made me a very tired and sleep deprived kid in the morning.
4) Denial
My mother was sick for 13 years and never wrote a will/trust. My dad didn't take care of that either.
I realize no one likes planing things that have to do with their death but my parents should have taken care of this. Anybody should whether or not they have an illness. Sure, its important to "stay positive" and all that. But you have to also be in touch with reality.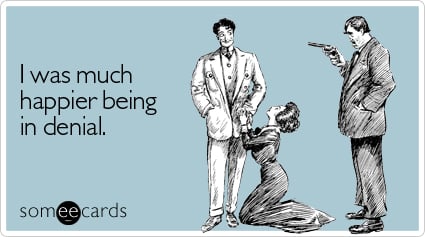 5) Passed Up Fame
I was a cute kid.
Don't worry, I'm not that full of myself. It deteriorated with age.
Anyhow, in LA, people "get discovered". A few agents approached my parents. Even a rep from Gerber asked if I could be the face of baby food. Did my parents exploit me and make millions?
No.
They wanted me to make my own decisions and have me not end up like Lindsay Lohan, blah blah, blah. But I totally want do it!
However it probably sounded like baby talk and they probably just thought I was being cute when what I really meant to say was:
"YES! Exploit me! Make me the new Jody Foster".
I know I may sound like I'm bitter with my parents, but I loved them and I really couldn't have asked for more awesome parents. And its heartbreaking that my time with them was so limited and shorter than most people. But maybe I had a "quality over quantity" thing in my case.
So I guess I had the truffle shavings of parents.
But I'll never forgive them for turning down Gerber.
Did you parents do things you didn't like or didn't agree with? Do you think you actually know better than your parents sometimes (or all the time).