I love food.
I know its hard to believe since I have a terrible history of an eating disorder but I really do love food.
But food, like most things aside from Ryan Gosling, is not perfect.
There are foods out there that make me incredibly pissed and sad. These foods are like that asshole who watched the movie, "Blood Diamond" and still wanted to get some diamond. These foods laugh at the people that fall for them. They mock us just by being digested. Some are delicious, some are addictive, and some taste like shit but everyone eats anyway.
So I thought I'd reveal my list of these ass-hole foods:
1) Triscuits
Fuck you, Triscuits.
They're like "Wheat Thins" but not on a diet
I know far too many people that complain to me that they polished off boxes of you and as a result they hate themselves. Look at you, with your addictive saltiness, crunchiness, and all your gluten glory. Stop being so addicting!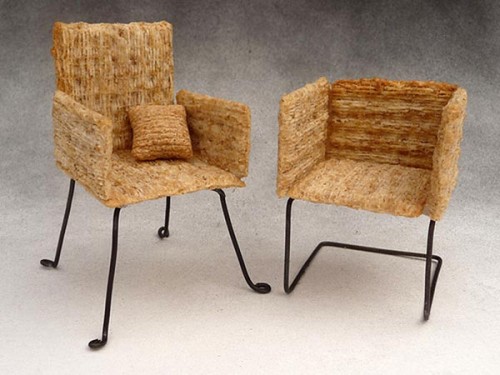 I hope they sell this at IKEA because I'm also totally craving meatballs
2) Starbucks
Most people that drink at starbucks baffle me as they usually fall into two categories:
People that are way too skinny and order everything black, sugar free, and disgusting.
People that want to have milkshakes but feel better calling it a frappuccino.
And thats why Starbucks is kind of an asshole yet redeems itself when you're at the airport and you need caffeine and know better than to wait until you board the plain to have the shit coffee they serve you 10 hours into the flight.
Go, quickly! Before its too late!
3) 100 Calorie Packs
You wanna hear a joke?
Of course you don't but I'm telling you one anyway.
9-11 pretzels will totally satiate you.
Hilarious, right? I don't know many non-anorexic people that would be totally satiated after eating one of these packs. When I have a pack, I feel like I need at least two more to get that "snack" satisfaction. I'm also very cross with the 100 calorie packs for messing with Oreos. When I want Oreos, I don't want a thin brown cracker with white sprinkles. Stop mocking Oreos just because they're over 100 calories!
4) Frozen Yogurt
Frozen yogurt is responsible for far too many tummy aches, slim wallets, farts, and shame. The amount of frozen yogurt that I've consumed throughout my eating disorder heyday is sickening. How can something so creamy, cold, and addicting be absolutely NOTHING like gelato or ice cream?
Really? That's like comparing a hand job to sex.
Oh yea, its got less calories.
5) Broccoli
Broccoli has a lot of things going for it:
It's inexpensive, tasty, healthy, green, looks like a tree….
But, broccoli is the biggest ass hole of all because its so good that I'm always tempted to eat it only to be cursed with 2-4 hours of sounds and smells being emitted from my butt.
Any foods that you feel are mocking you or that you find to be particularly "asshole-ish"? What foods were you/are you addicted to?