Valentine's day is coming up so that's my excuse for write a post about the crazy things women do when they like someone.
Having a crush can be a good and terrible thing.
It's good because it gives you a reason to get up and look good and its a rush of endorphins and hormones that results in lots of smiling and giggling.
However, it can also make people do some crazy shit.
I have no idea how guys get when they have a crush, but I know a lot of women tend to do crazy stuff. Who can blame us!? Until we get a clone of Ryan Gosling in every girl's hands, women will probably never cease to do the following when they have a crush on someone.
1) Google the shit out them
Yep, its 2013.
They will Google the shit out of just about anyone that strikes their fancy and if they're really determined, they'll Google their friends and family.
Hey, men out there: I you took that gross video of off YouTube.
2) Over-analyze Texts Like Its Hieroglyphics
Women tend to read WAY too much into a few simple text exchanges. Or way too much into not hearing back from their crush.
I know, because I admit to doing it too. If I begin to do this, I try catch myself and say,
"Eden, relax. Go try to find someone with weed cause you need to just chill-the-fuck out! Don't bust out the Urban Dictionary over this. Don't pull over to answer a text. Stop rearranging the same five words to text him back! Stop being such an girly girl and move on with your day!"
Hopefully, nothing like the following will ever happen to you:
3) Research and learn more about their interests or hobbies

I liked this guy in college who was really into Woody Allen.
I had seen a handful of his films, but I basically rented all the Woody Allen movies I could and researched the shit out of it.
My crush ended up with some other chick and now I know that Woody Allen got married when he was sixteen and that The Curse of the Jade Scorpion is terrible movie.
I'm finally confident that I don't need to do this anymore. Most of the guys I know like sports and Iwill not learn the ins and outs of sports and pretend like I know what I'm talking about when they talk sports. I'm fine with being quiet and looking at my Instagram feed while the guys watch a game.
Cue a chick that isn't me: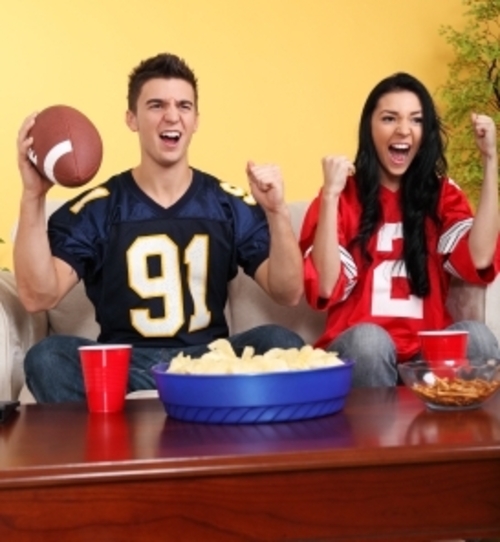 But Woody Allen is awesome, despite that one flop I had to endure.

4) Laugh at their jokes (even they're totally un-funny)
I don't think I do this, but I tend to be attracted to people that are naturally funny.
However, I do remember liking this boy in high school who would try to crack jokes and most of them were awful.
I laughed anyway. I wasn't attracted to his humor, I was more in love with the fact that he played guitar and looked like Andrew Garfield.
Sadly, according to my Facebook feed, he's now married to his high school sweetheart. 
5) Rehearsing things you want to tell them
I actually did this with a friend. I said,
"Ok, you be him and I'll be me and I'll just start…"
Problem is, your friend or your imaginary friend who you're rehearsing this bullshit with will probably NOT say what your crush will. I guess since I've been doing a little stand-up comedy, I'm usually good with riffing and improvising for these scenarios. But I have a feeling if I actually did all this with a guy, I would sound like this:
"What?! NO! That's not what you're supposed to say! That's not the way I rehearsed it! Ok, lets do this again…."
And then you just end up looking weird and scare your crush away into oblivion.
Cue Adele music.
Whats the weirdest thing you've done when you had a crush on someone?