If there is anything besides home depot and church that's synonymous with Sunday its brunch.
Brunch is awesome.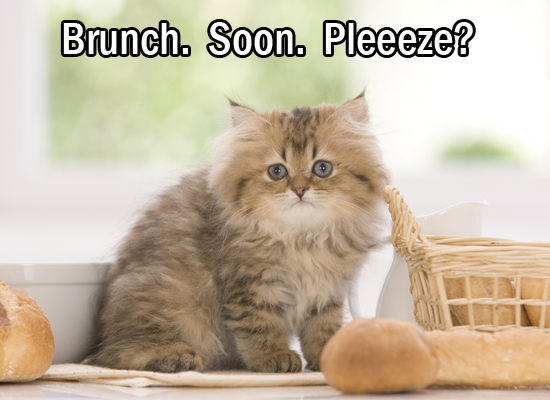 Its up there with other awesome things like
Anyhow, in the spirit of Sunday, I thought I'd count down 5 legit reasons you should be eating brunch:
1. You Will Save Money
I'm a Jew, therefore I know about saving money.
(Its politically correct for me to write the above statement because I'm a Jew and not a racist)
The cool thing about brunch is that its a hybrid of two meals. So you're getting TWO meals for the price of one. Hence you also feel better about eating stuff that will make anorexics hyperventilate like french toast, bacon, hollandaise, and caloric food in general.
2. You Will Feel Rich
Even thought you're saving money (see point #1), "going to brunch" is something rich people like to do.
"Oh, me? I'm just sitting here, eating brunch, gazing at my bling, being rich. Typical Sunday."
Actually, I don't really know what rich people like to do because I'm not rich. But I do know that brunch is never served at a soup kitchen.
3. You Can Brag About it
You'd think that having a career in food that I eat fabulous, interesting foods, 24/7.
But the reason why I break the "food blogger mold" is that I don't waste my time writing up an analysis of the turkey sandwich I had the other day. Do you know how boring the rest of my meals are during the regular week are?
Brunch is the one time you might have your food instagram worthy.
4. You Feel like an "Adult
Eating Cheerios or Pop-Tarts on a Sunday morning doesn't really scream maturity.
(neither does being so hungover you forgot that you're an adult, but who's judging?)
Brunch is that special time you can talk about "interest rates" and "NPR" while sipping on a drink that wasn't served in a red plastic cup and doesn't have the word "XXXTRA" or "Lite" on the can. It can also make you feel healthy cause you stick a celery stick in your drink.
Celery? Yep, this drink reeks of health.
5. Anything with the potential to involve waffles is automatically awesome.
Word.
I suggest you try my
left-over rice waffles
when you're too lazy to go out to brunch and too motivated to defrost one.
Do you like brunch? Why? What's your favorite brunch food?