Oh look, yet another internet list.
But this one is acceptable because it involves coffee and coffee keeps some of us from committing heinous crimes in the morning.
Here's some things you can do to your coffee to take it to whole other level
1) Add Sea Salt
I actually add sea salt to a lot of random stuff (sprinkled on top of chocolate ice cream, cookies, even brownies). Adding a dash of sea salt (or any kind of salt, but I find sea salt tastes a little better and sounds "natural" and healthier), can soften the bitterness in coffee. I prefer using salt when I get iced coffee since I find cold brews to be a little bitter. But I hear you can also add some salt straight up to the coffee grounds when you're making it and it tastes just divine.
2) Add Extracts
True coffee snobs will burn me at the stake for this one. But hey, it's better than buying one of those flavored coffees.
A few drops of pure extracts like vanilla, almond, or even rum, can really bring another dimension to your coffee. I love adding almond extract to a cold brew, makes it taste like marzipan! Not that I'm replacing coffee with marzipan! Marzipan is irreplaceable!
3) Add Ice Cream
You can't go wrong with a scoop of ice cream with a shot of espresso poured over on top. Or even make a "coffee float" (root beer float minus root beer, plus coffee).
4) Add Cardamom
You might be familiar with cardamom in Indian cuisine or tea (like chai). I'd start with one crushed cardamom pod per cup of coffee, and later adjusting the amount to your taste. You can add it to the coffee grounds in a drip machine, French press, or any method you use to make coffee.
5) Add Dulce De Leche
Substituting dulce de leche for cream and sugar will totally up your coffee game. The carmel-esque dulce de leche is made out of sweetened condensed milk so you won't miss the cream or the sugar. Trust me.
6) Add Chocolate Milk (or YooHoo)
They make soy milk, almond milk, coconut milk, and I bet even yak milk in a chocolate version. YOU HAVE NO EXCUSE! Try it! My personal favorite is pouring in some old fashioned YooHoo.
7) Brew With Egg Shells
If all you've got on hand is mediocre super cheap canned coffee that's too bitter, some egg shells can remedy that.
I know this sounds insane. But try this: crush up the shells, put them in with the coffee grounds, and brew your coffee as usual. Then make make deviled eggs with your hard boiled eggs or fertilize or something!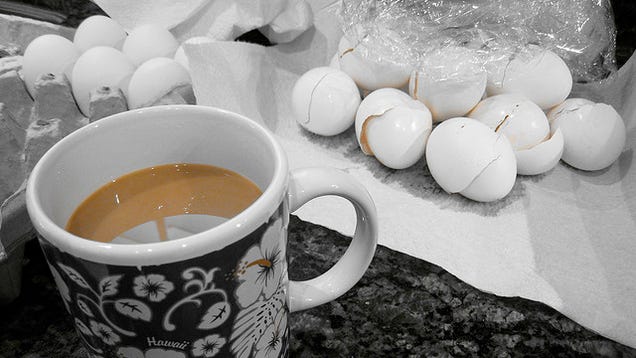 8) Add "Tim Tam"
A Canadian blogger started a whole blog devoted to adding weird things to coffee. He's experimented with all sorts of stuff from smoked salmon to bacon. Not all were tasty (in fact some he admitted were down-right gag-worthy, but one that he raved about was something has called the "Tim Tam Slam". He basically mixed up the Australian Tim Tam cookie into coffee and no wonder it tasted amazing. Tim Tams on there own are awesome, mixing them with coffee seems like a logical and caffeinated step.

9) Add Booze!
Not that I'm endorsing alcoholism, but a splash of Frangelico, brandy, rum, Kahlua, Grappa, or even vanilla flavored vodka can add an interesing kick to your coffee. Adding alcohol isn't for everyone, but it may make Monday mornings more fun.
Bottoms up!
10) Add A Piece of Chocolate
A good quality block of chocolate, or heck, even a Hershey's kiss melted in your hot brew can taste really awesome.
But to be honest, if you have good quality coffee, the best thing to add to coffee is nothing.
Do you like to add anything special or unique? Nothing is too weird, share!